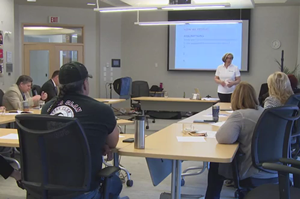 Media Relations Training
For over 20 years, CEOs, corporate presidents, Indigenous leaders, chairs of boards, and veteran communications staff have asked The PRHouse to coach them. We've provided media relations training to hundreds of leaders to help them become better champions for their cause or corporation.
Our training is custom-designed for you. So your time will be well spent on issues specific to your goals and your issues.
Contact Us
Contact us to book your custom-designed media relations training program.
smuir@prhouse.ca
204.771.7523
Video Production Training
Whether you've got your own video gear or you're still shopping for equipment, our award-winning video producers can provide you with tips on how to elevate your video ideas and make your audience click "play," and stay for the whole show. The hands-on, day-long training covers three key areas.
Best practices in:
Planning a shoot
Researching
Scripting
Interviewing
Best techniques in:
Preparing the scene
Creative shooting
Lighting and audio
Post-production and distribution
Equipment purchasing
Legalities of:
Shooting in public
Getting release forms
Music and video copyright
Contact Us
Contact us to book your custom-designed video production training program.
smuir@prhouse.ca
204.771.7523